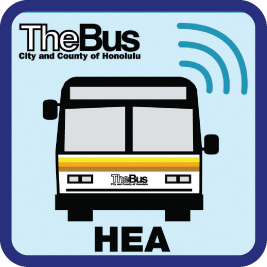 HEA
Real-Time Bus Arrival

Routes & Timetables
(808) 848-5555
5:30 a.m. - 10:00 p.m. HST
DaBus
(City Dept. of IT App)
City DIT Listing
Service Disruption
March 8, 2014 08:45am - The Honolulu Rainbow Ekiden Realy
Route(s) 14.
No service westbound along Diamond Head Road between Diamond Head/Poka St. to Paki/Noela St. Patrons may board West Bound buses along Kapiolani Park after Paki and Noela or prior to Diamond Head Lookout at Fort Ruger Park.
More...

Rider Alerts
temporary detours, upcoming changes, roadwork, etc...