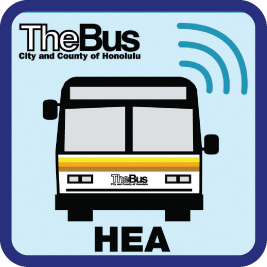 HEA
Real-Time Bus Arrival

Routes & Timetables
(808) 848-5555
5:30 a.m. - 10:00 p.m. HST
DaBus
(City Dept. of IT App)
City DIT Listing
Service Disruption
October 31, 2014 01:00pm - Road Work
Route(s) A, 40, 42, 53, 54, 62.
Service delays on Kamehameha between Puu Momi and Acacia, and on Farrington at Kahualii. Buses running 30 to 50 minutes behind schedule. Delays impacting service west and eastbound.
More...

Rider Alerts
temporary detours, upcoming changes, roadwork, etc...