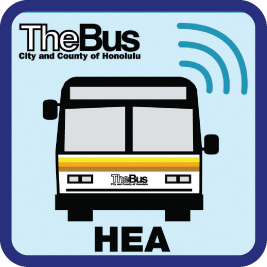 HEA
Real-Time Bus Arrival

Routes & Timetables
(808) 848-5555
5:30 a.m. - 10:00 p.m. HST
DaBus
(City Dept. of IT App)
City DIT Listing
Service Disruption
October 23, 2014 09:00am - Motor Vehicle Accident
Route(s) 53.
No Service on Komo Mai Dr/Waimano Hm Rd EB and WB heading into Pacific Palisade. Buses will terminate at Waimano Hm Rd/Komo Mai(upper Pearl City terminus) until the road is re-opened.
More...

Rider Alerts
temporary detours, upcoming changes, roadwork, etc...